The 2022 Subaru Love Promise Community Commitment Award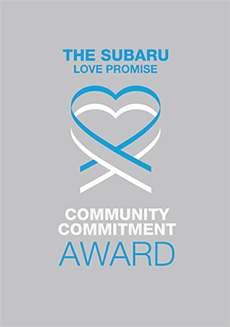 We've been nationally recognized for our dedication to our community and the Subaru Love Promise.
We're honored to receive the 2022 Subaru Love Promise Community Commitment Award. This award nationally recognizes Subaru retailers who are making the world a better place while demonstrating an outstanding commitment to supporting passions and causes in local communities. These efforts are focused in important areas such as the environment, community, health, education, and pets.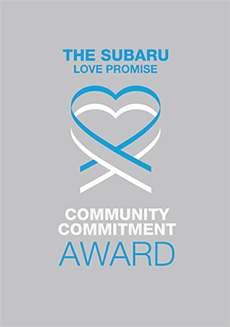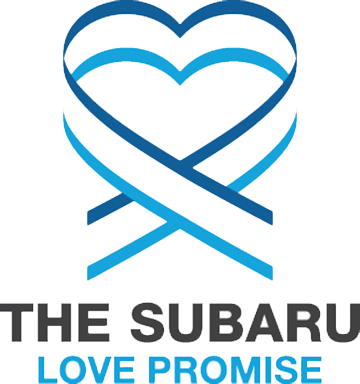 What is the Subaru Love Promise?
Subaru and our retailers believe in making the world a better place and the Subaru Love Promise is our vision of respecting all people. This is our commitment to show love and respect to our customers and to work to make a positive impact in the world.
How is Germain Subaru of Columbus dedicated locally to the Love Promise?
Subaru and Germain Subaru of Columbus believe in making a positive impact on the communities in which we live and work. We uphold that belief through our Love Promise Community Commitment. Our current Love Promise Commitments include partners such as RescuedOhio, Prarie Oaks Metro Parks, Habitat for Humanity, Nationwide Children's Hospital, Mid Ohio Food Bank, The Open Shelter, and Pelotonia. We are searching for new partners and ways that we may uphold The Subaru Love Promise. If you have an organization or cause that needs assistance, please feel free to email bfornash@germain.com for more information.
Finland Elementary School
Mid Ohio Food Bank, Habitat for Humanity, The Open Shelter
The Ohio State University Comprehensive Cancer Center, Nationwide Children's Hospital
Love Promise Stories from Germain Subaru of Columbus
Subaru and Germain Subaru of Columbus believe in making a positive impact on the communities in which we live and work. We uphold that belief through our Love Promise Community Commitment. Every month, we select inspiring stories from customers and partners from around our area who strive to support our collective commitment and feature them here
Germain Supports The Open Shelter - Shannon H
Germain Subaru supported The Open Shelter for the 2rd consecutive year during the 2021 Subaru Loves to Help Event. Team members from Germain Subaru hand delivered 200 blankets and socks to help support the homeless and marginally-housed in Central Ohio. The Holiday Season is a particularly challenging time for Open Shelter patrons and the timing of this donation was crucial for many people in need. We enjoyed a tour of the facility and learned more about the services provided there. Thank you to The Open Shelter for allowing us to partner in providing these very important services to Central Ohio.
---
It's Alive! - Dave Y
Thanks to the entire service team at Germain Subaru. My son bought himself a 2011 WRX STI (his dream car) from a private seller. After only a month of driving, the car had bearing failure likely due to abuse by the previous owner. My son was heartbroken and even worse he was on his way to Basic Training and couldn't dedicate the time needed to fix the car himself. We are so glad that we reached out to Germain Subaru. Benny, Cody and Trevor came to the rescue with a new OEM short block, and they reassembled and installed the engine and it has been running great with no issues and no Check Engine Lights! Trevor and Cody both have a lot of experience with these limited-edition models, and we were very confident in their work. They kept us in the loop as the car was put back together even during the busy holiday season. It's good to know that there are still car dealers you can trust to do good work and take care of their customers. Thanks again for all of the hard work!
---
The Salvation Army Adopt A Family 2021 - Bennie F
We are very proud of the Germain Subaru staff for their participation in The Salvation Army's Adopt A Family 2021 Program. This year we supported a hard working family with three children. The team at Germain Subaru provided $750 in gift cards, toys, shoes, clothing, household items, and accessories to ensure this family has a great Christmas. Best wishes to all Adopt A Families this Holiday Season!
---
Pelotonia 2021-Germain Impact - Team G
Congratulations! Germain, In 2021 you raised $112,870 with 58 participants. Thank you Germain for a legendary year! Because of your continuous hard work and dedication, we were able to have another impactful year funding innovative cancer research at the OSUCCC-James. We look forward to growing with you in 2022! https://www.pelotonia.org
---
A Lucky Pup Living Out His Golden Years - Jillian L
Stitch is a 10 year old Pitbull mix that was a shelter surrender and transferred to RESCUEDohio in September 2021. He arrived with multiple health issues including skin and ear infections, undiagnosed masses on his body, teeth that had been neglected and an enlarged testicle. An amazing foster welcomed him into their home offering a warm bed to sleep in, food to eat and all the love he needed to start his journey to healing. His senior years will definitely be his golden years; his foster fell in love with his fondness of early dinners and belly rubs and decided to give him a permanent home. Stitch is the sweetest old man who spends his days being a shadow to his new owner, chasing balls and taking long naps. Stitch's care costs totaled $1,940.00 and we were able to cover his vet bills because of the support of Subaru and the Subaru Loves Pets campaign. The overall campaign donation of $3,100 helps us provide care to other dogs like Stitch that need more intensive medical care. RESCUEDohio is so grateful for the support we have received from Germain Subaru over the past 4 years.
---
Park Clean Up - Kerry K
On Sunday October 18th, Germain Subaru of Columbus Team members, family, and guests volunteered their time at Prairie Oaks Metro Park. The group gathered and removed approximately 140 lbs. of trash from the picturesque Darby Lakes area. Their efforts assisted in creating a better and safer experience for park visitors. Thank you so much for helping to keep our park beautiful!!!Metro Parks is appreciative of the efforts and look forward to a continued partnership with Germain Subaru.
---
Thank You From RESCUEDohio! - Kara S
Our partnership with Germain Subaru has enabled us to place over 500 dogs into their forever homes in 2020. In this time, we have been able to take in multiple medical and emergency cases that we would otherwise not have been able to manage. With the donations from the Subaru Loves Pets and Share the love campaigns, we have been able to help puppies heal from parvovirus, treated 16 heartworm positive dogs, provided loving care for 6 hospice dogs, and prepared them all for their forever homes. Our volunteers work hard everyday to help the dogs that we bring into our group, and it is hard on all of us to see furry faces in need of help and to have to say "no". Thanks to the support we've received from Germain Subaru, we have been able to say "yes" to many more dogs in need, giving them the care they need to set them up for the lives they deserve. We are so thankful for this partnership and Subaru's dedication to homeless animals, and we can see the impact of their support every day in the form of wagging tails and puppy kisses. We even made a video to show the story of just one dog that got his Freedom Ride thanks to Subaru's support! https://youtu.be/Pm0G44skNBc
---
AMAZING customer service - Elizabeth H
My husband and I arrived later than we had planned on a Monday night and only had 2 hours until closing to select a car and make a purchase. The sales member, David, never made us feel rushed and happily answered all our questions! He didn't blink an eye when we wanted to look at multiple cars. Everyone we met was kind, welcoming, and professional! We made it through the purchase process and the team stayed late to ensure we had everything we needed. I HIGHLY recommend this dealership!!
---
Smooth Process! - Kaleb H
Leo and Bennie both helped out tremendously with my first purchase of a car. I was looking for a car for college/work and Leo made sure that I understood everything about the car and was very up-front about everything! From now on I am going to recommend everyone to Germain of Subaru. I was very excited to leave the dealership in a new Legacy that I know will last me through college!
---